Your Guide to Property XML Data Feeds
by: Leon Harris on 24th Oct, 2013 at 00:00am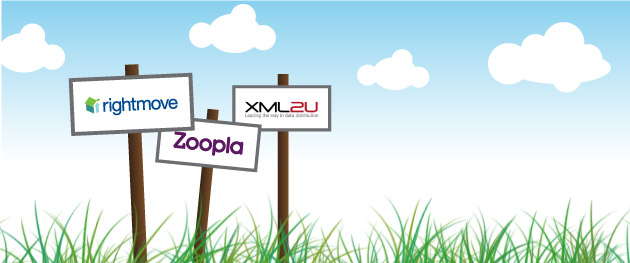 Property feeds in a Nutshell
In short, property feeds are like spreadsheet files but instead of containing financial or customer information, they contain a list of your properties along with various related details for each such as price, number of beds, address, attachments, summary and links to relevant photos. Being a text file, they can be easily transmitted or shared between parties, understood by different applications and opened on most computers. Feeds are usually transferred between sites under an automated process although with small files containing only a few items, sometimes people choose to email them.
Depending on the site and provider, property feeds can come in a variety of different formats such as TXT, XML, RSS or .BLM and allow both local and international firms to share properties. Companies such as Zoopla and Rightmove have created their own industry standard feed specifications but there are still many others that are different to both. The site Future Life Properties for example, receive feeds every day from companies all around the world in one singular format. If your intending to utilise a property feed either to import properties into your own site or to send properties to someone else, it's important to first establish which format will be used.
Why use property feeds?
The idea behind property feeds is simply to give the receiver and the sending publisher the opportunity to share and profit from their services through the internet without the need to manually administer the exchange of property details. Websites receiving these properties can dramatically bolster their existing portfolios over time and therefore raise their company profile to be inline with brands substantially more well established. Companies sending their data to other sites can benefit from a commission structure or a subscription fee service. The choice is yours!
Property portals and the chance to make extra money
With the introduction of the large property portals such as Zoopla, Rightmove and Primelocation, prospective home buyers and tenants now have the option to search through literally millions of properties at the click of a button. Future Life Properties alone has a huge catalogue or properties somewhere in the tens of thousands, ranging from flats and houses to Spanish Villas and new developments. The wide choice or properties (and agents) for customers searching these sites has never been better and numerous benefits for the usually picky customer. For smaller estate agents, this is great because Zoopla and a number of other online companies offer a variety of property feeds and historical data one can use within their own site. For a relatively small subscription fee and custom estate agent website design, new and existing brands can quickly become nationwide in their customer appeal.
How Modern Estate Agent Website Design Helps
The increase in internet based virtual estate agents from leading firms has seen high street brands that may be new or not already well establish, finding it increasingly difficult to gain a foothold in their local market as potential customers turn to online 'quick searches' rather than the more manual approach of walking along their nearest high street. This is where high quality, branded estate agent website design can be a life line.
Smaller high street estate agents who may only have a half dozen local properties to choose from clearly will find it hard to compete with the large portal sites, with their extensive portfolios and high end website features. Having a weak website that looks unprofessional, rushed or out of date will prevent the agent from converting customers and building popularity. With creative and brand driven property web design, smaller agents have found themselves being able to compete at the highest levels and offer their customers the same types of website features normally only seen within the larger portals. Mix this with a good property data feed and smaller companies are now able to effectively advertise hundreds of properties that would normally be exclusive to the portals or entirely out of their reach.
Sending feeds to the portal sites for greater coverage
Many agents are probably aware of Zoopla and may even be regularly using them to 'manually' upload property details to their site one by one. However with agents who already have a website, using Zooplas subscription based XML submission facility, one can have these steps automated so that as they update properties on their own website, they are sent via a data feed to the portal. It's an elegant facility and It should be noted that this idea is not exclusive to the largest portals but in fact many smaller sites also have facilities to accept a data feed.
As you can imagine, for sites that have a large quantity of properties this can save potentially hours of time and money and gives agents the opportunity to concentrate on up selling rather than website administration. The coverage of their properties (and brand) will also increase as more nationwide agents and portals alike start feeding off their content.
Setting up property feeds to export data
The process of setting up automated property feeds on a website can be quit complex and done in a number of ways. The first thing to decide is which website(s) your targeting and if they already offer a feed format your site can provide or be upgraded to do so.
Normally your property feed web developers can implement the facility onto your site either as an add-on feature or part of your sites initial development. The benefits being you'll get a fully integrated, seamless and customisable application that will normally require no additional administration. The downside being the potential higher one-time cost of implementing the automation.
Alternatively, companies such as XML2U can provide a so called website 'scrapping' service whereby they periodically gather data directly from your website pages and place your property data within a number of universal and custom feed formats other sites can use. The benefit here is that no website alterations will normally be required to extract your property data and generate a feed. The downside being potential inaccuracies can appear within the feed due to the nature of website scrapping, you'll need to enter into a subscription with them and potential end users have to opt-in to using your feed.
Making the right impression
Whichever method you decide to go with, (feed import or export) it stands to reason that the more impressive your online estate agent website design is and the depth of your services, the more likely other companies will wish to connect and do business with you. Be it providing you their properties via a feed or welcoming the chance you can do the same.