Small Business Website Design Services
Corporate Web Design That Creates Brand Awareness
Increase your sales and customer conversions with our professional and cost effective business web design services. With a flexible range of website design prices, 100% tailored design and our years of cross industry experience, your new business website is only a phone call away. Our web design company focuses on affordable web design, high quality and attention to detail, assuring your new corporate website stands well above your expectations and places your brand firmly in line with your nearest competitors.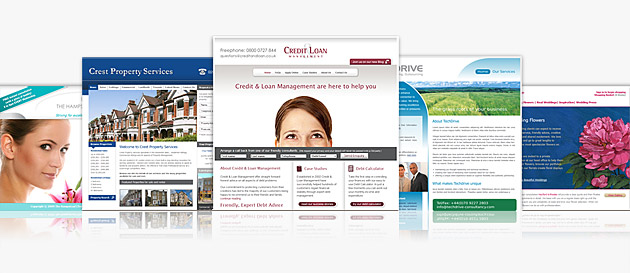 Love Your Website and Your Audience Will Love You
With 12+ years of extensive business website design experience you can trust us to deliver web design that's high quality, user friendly and SEO optimised. You love your brand and so will we; delivering great ideas, clarity and drive to help your company or products succeed online via elegant business web design across every sector. Working closely with you, we are meticulous, supportive and thorough with the sole aim to help realise your brand vision and help you succeed.
Small Business Sites With a Statement
Websites for Dentists
Web design for Schools
Business websites for Shops
Business sites for Opticians
Accountancy Websites
Websites for Bakeries
Financial web design
Charity web design
Hand Crafted From The Ground Up
Looking for a start-up business website that's easy to navigate and highly accessible? Then you have come to the right place. 'Hand coded' by experienced web developers, our business websites and mobile web design services work across multiple platforms; the end result is a site capable of keeping your audience up to date, informing them of your new services and allowing you to promote your brand to a worldwide audience.
Benefits of Our Small Business Web Design Company
No templates 100% custom, creative website design to your exact specification.
We develop easy to use content management systems that give you content control.
Exciting database driven features that allow your site to grow with your company.
Dazzle your clients with animated and interactive features using Flash or HTML5.
We provide on-going support. We never abandon our loyal customers when in need.
We offer fixed website design prices to fit most budgets and no minimum pages.
Located in South London we are happy to visit customers to discuss their projects.
First Impressions Can Make or Break Your Site
All of us agree that it's the first impression that counts, and the online marketplace is no different. In fact, with a website being the face of your business online, it is crucial that you have an impeccable design that simply wows your target audience the FIRST time as just like a job interview you'll rarely get a second chance to convert unimpressed customers.
With a focus on helping you register a strong online presence, we work with you from concept to realisation, helping you at every step of the way in presenting your business to the whole world. Our designer is highly proficient in creating immaculate, customised website design for small companies that meet your exact specifications, effectively highlighting what you do best and "broadcasting" it in the most compelling way.
Why Choose Our London Web Design Company?
Over 14 years experience

designing and building business websites across many industries throughout the UK and across the globe.

Design work is done in our London office

. We do not outsource web design to anyone you can't directly contact 7 days a week during GMT.

We take a personal approach

working directly with you from start to finish. You'll have 1 point of contact who knows every aspect of your project and wont change.

We can be contacted 7 days a week

by phone, email, Skype and social networking sites such as Google+ and Twitter.

We are a full service agency

so can provide everything from ecommerce sites to printed advertising, brochures and logos.
Frequently Asked Questions
How much will my website cost?

Send us your project details using this form and we will send you a bespoke price.

Do you provide web hosting?

Yes. With all quotes we can offer competitive and affordable high speed VPS hosting.

Who owns my website?

You do. Once all invoices are settled you have 100% unconditional ownership of your site.

Can I amend my website?

Yes. With all ecommerce sites we provide an easy to use admin panel to update your contents.

Do you provide any support?

Yes. We provide both free and low cost support packages which include content changes.