Featured Website Design Projects
DesertPea: Native Australian Skin Care Products
DesertPea specialise in the manufacture and retail of revitalising skin care products sold through their own e-commerce store and via a bespoke affiliate micro-site program they are selling to salons and spas. With a focus on using only native Australian flora and on-going education into their many benefits, their site through video, animation and text, aims to become an invaluable resource for salons, wholesale clients and customers alike.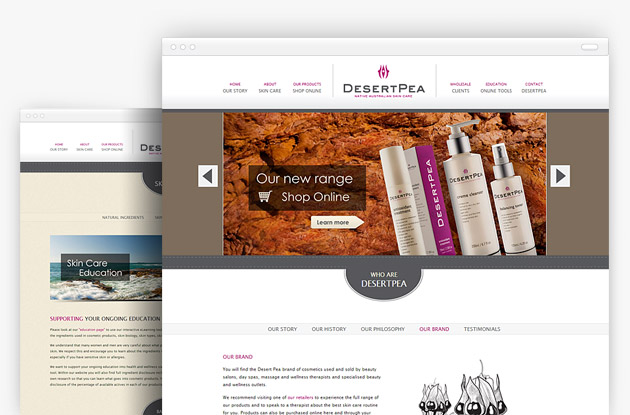 Web Design, Web Development, Affiliate Sites, Print Design, Web Hosting
Custom E-commerce Platform, NAB Transact Payment Gateway, SSL Security
Future Life Properties: Real Estate Portal
Future Life Properties are a dynamic and progressive company promoting different ideas and beliefs while providing the highest standards in all property related matters. Whether it be buying a villa in Spain or preparing legal documents, Future Life Properties offer this all. With a focus in providing customers around the world a one-stop solution for everything property related, Future Life Properties have grown to become one of the UK most unique Property Portals around.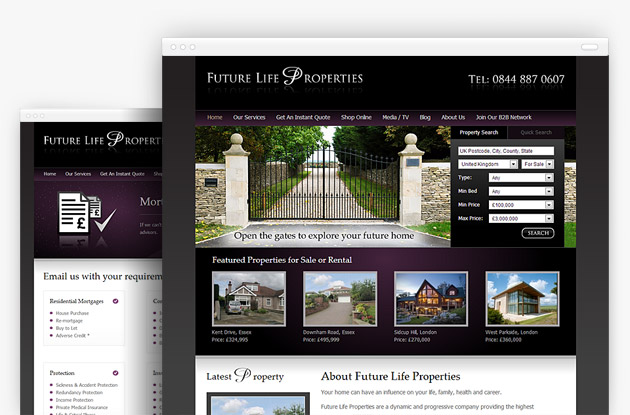 Brand identity design, Web Design, Web Development, e-Shots, Banner ads
Custom Property CMS, E-commerce Shop, RSS, PayPal Integration, XML Feeds
Bright Day Finance: Personal Finance Services
Bright Day Finance is an Irish company consisting of a small team of professionals helping customers in need of financial debt advise. With their previous website being entirely Flash, the client brief required an SEO friendly website that was modern, attractive, searchable and inviting to their customers. Using WordPress we developed a custom theme complete with plugins giving the client a manageable site they could easily update themselves.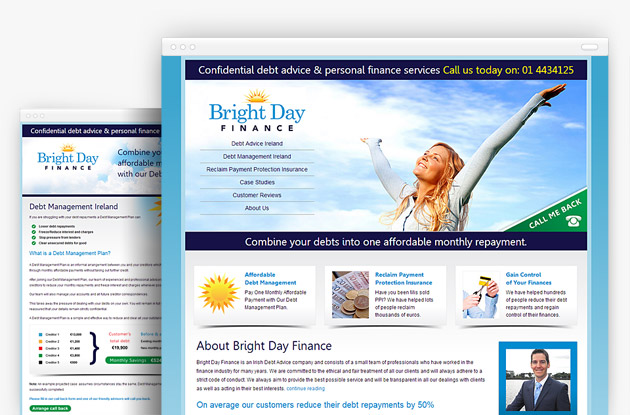 Website Design into WordPress theme, WordPress Web Development
Custom Shortcodes, Custom Widgets, Custom Plugins
Mike Kemp: Stock Photography Licensing
Mike Kemp is an American professional photographer who through his stock photography site offers licensing opportunities for publication houses, graphic designers and advertising campaign executives. We developed a 100% custom website which includes search functionality, a personal lightbox facility and a variety of filtering features to better serve the viewer.
Logo Design, Website Design, Website Development
PHP, JQuery, Bespoke Gallery CMS, Custom Lightbox Facility
UKguests: Homestay Services
UKguests are one of UK's leading established Limited companies who are committed to offering visitors a first class student accommodation and English host family service. UKguests encourage the development of mutual awareness among people from different nations through the careful selection of trustworthy, generous and hospitible families throughout the United Kingdom.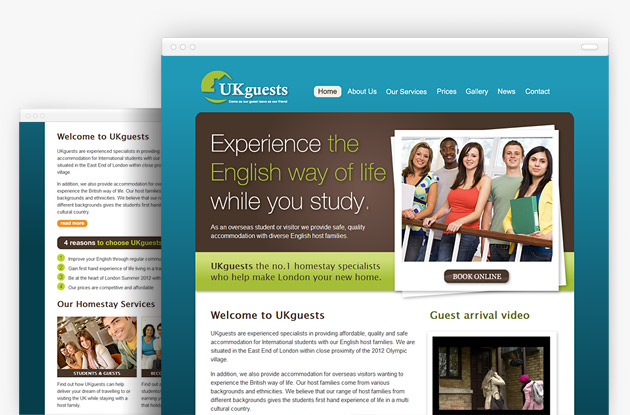 Logo Design, Website Design, Web Development, Print Marketing
Bespoke CMS, Online Video Streaming
View this project Get in Touch
Cagecity: Online Women's Fashion Store
London based online clothing store that heads back to simplicity; providing a fresh, bright look and an emphasis on high quality styling and photography. They showcase up and coming brands while providing young creatives with a market to sell their handmade and vintage products to a worldwide customer base.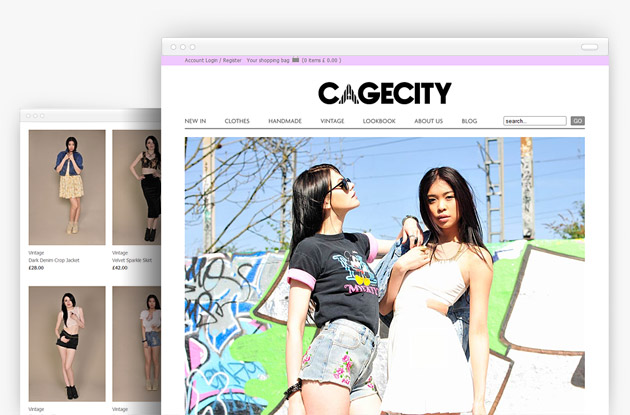 Website Design, Web Development, Web Hosting
Bespoke Shopping Cart, Linkshare Product Feed, WorldPay, PayPal, Blog
Michael Naik: Stoke Newington Estate Agents
Established in 1985, Michael Naik is a long standing residential and commertial sales and lettings agent located in Stoke Newington London. For their new website we provided the branding expertise, custom property management system, sign-up process for SMS text and email alerts and an automated XML feed which sends their database of listings direct to Zoopla.
Re-branding, Website Design, Website Development, Mobile Site
Bespoke Property CMS, Rightmove XML Feeds, SMS Text Alerts, Google Maps
All Arms: Ecommerce Armed Forces Store
All Arms provide clothing and kits for the British Military, UK Law Enforcement, security contractors and airsoft teams through an easy to use e-commerce store. With a large selection of new and used tactical clothing, combat boots, personal load carrying equipment and parade clothing, All Arms is a great place to shop online for those hard to find items.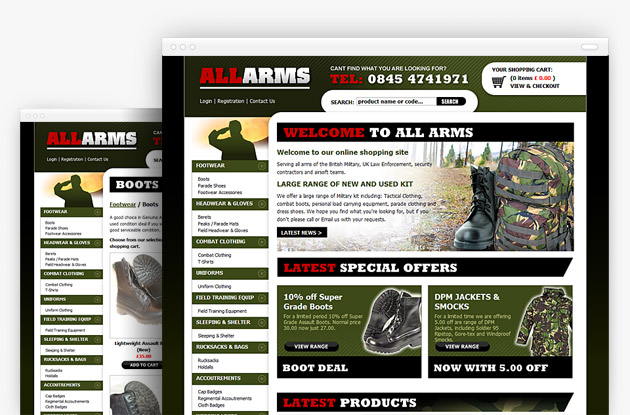 Logo Design, Website Design, Website Development
Custom E-commerce CMS, PayPal Integration, SagePay Integration
Tiger Dragon Consulting: Corporate Service Provider
Tiger Dragon Consulting provide a variety of domestic and far eastern business related services including Ltd company formations, secretarial and shareholder services. Through an entirely custom built registration process using Companies House XML Gateway and Realex Payments, UK customers are able to both form new companies online and login to retrieve documentation through their site.
Website Design, Website Development, Stock Photography
Companies House XML Input/output Service, Realex Payments, PayPal
Moves Fitness: Nationwide Fitness Classes
Formed in 1981, Moves Fitness is a unique style of aerobic dance class aimed at all age ranges. It offers the opportunity to participate in one of the most exciting, fun and beneficial aerobic exercise programmes in the UK. Their new website offers a wealth of information including a blog, nationwide search facility, class details and teacher login facility to update their public profiles.
Logo Identity Design, Website Design, Web Development, Print Marketing
Custom front and backend CMS for teachers and admins, Bespoke Calendar, Blog
Crest Property Services: Estate Agents
Crest Property Services are a UK based Estate Agency specialising in residential sales and lettings, commercial properties and property management. Working with Landlords, vendors and tenants they have built a long standing reputation of excellent service and quality within the property arena.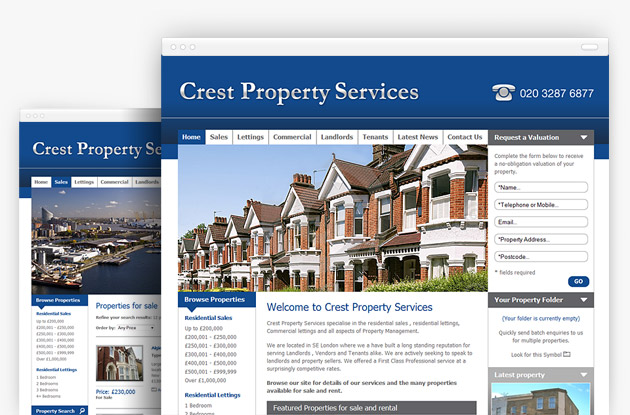 Logo Design, Website Design, Website Development, Banner Adverts
Custom Lettings CMS, Quick Search, Google Maps API
Lorraine Whyte: Intuitive Counsellor
Lorraine Whyte is an intuitive counsellor who works to help her clients explore and address the issues that are holding them back in aspects of their lives. Through personal experience and various seasoned techniques, clients are guided through a journey of exploration as they connect with their hearts to unlock their true potential.
Logo Identity Design, Website Design, Website Development
Custom Blog Platform, Newsletter Signup, PayPal Integration
Sport Streaming 24: Watch Live Sports Online
Sport Streaming 24 is a premier online destination for watching all the biggest sporting events live over the internet. For the client, we built a site that responds to global locations, adjusting times accordingly, a custom content management system to administer the front end including featured events, tutorial videos and live sport categories. XML integration using Bet365 live sport calendar and we developed a robust banner advertisement platform to promote affiliates.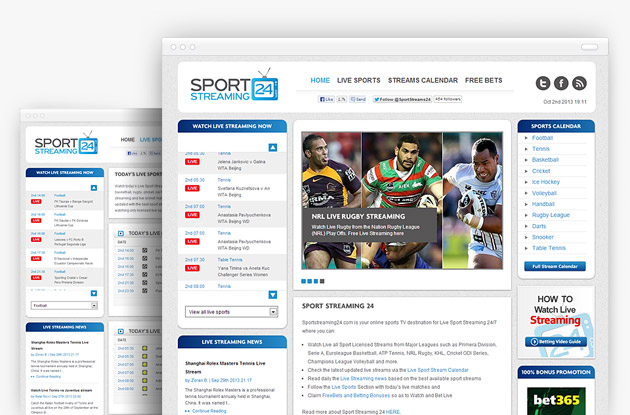 Website Design, Website Development, Bet365 XML data feeds
Custom Content Management System, Geo-location API, Custom ad platform
Ecosse: Manchester City Airport Taxi Service
Ecosse Taxi Service is a friendly family run business specialising in safe, reliable and highly competitive airport taxi transfers and business travel services in and around Glasgow Scotland. With an online quote feature Ecosse Taxi Service are able to offer quick and accurate prices for transfers that meet the high standards customer expect.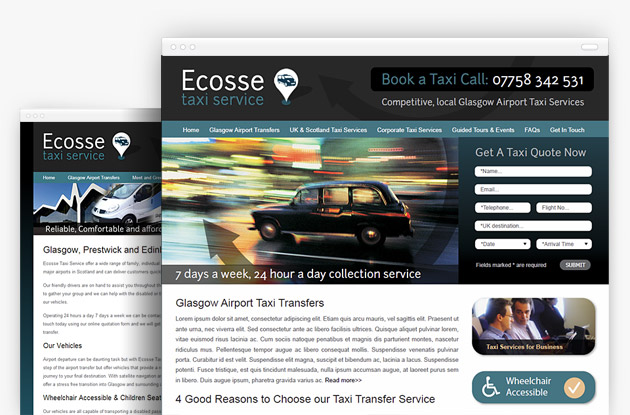 Website Design, Website Development, SEO Content Writing
PHP, JQuery, Online Quote Form
Why Choose Our London Web Design Company?
Over 14 years experience

designing and building business websites across many industries throughout the UK and across the globe.

Design work is done in our London office

. We do not outsource web design to anyone you can't directly contact 7 days a week during GMT.

We take a personal approach

working directly with you from start to finish. You'll have 1 point of contact who knows every aspect of your project and wont change.

We can be contacted 7 days a week

by phone, email, Skype and social networking sites such as Google+ and Twitter.

We are a full service agency

so can provide everything from ecommerce sites to printed advertising, brochures and logos.
Frequently Asked Questions
How much will my website cost?

Send us your project details using this form and we will send you a bespoke price.

Do you provide web hosting?

Yes. With all quotes we can offer competitive and affordable high speed VPS hosting.

Who owns my website?

You do. Once all invoices are settled you have 100% unconditional ownership of your site.

Can I amend my website?

Yes. With all ecommerce sites we provide an easy to use admin panel to update your contents.

Do you provide any support?

Yes. We provide both free and low cost support packages which include content changes.