Cheap and Affordable Website Design
Affordable web design for start-ups and the self employed
If your just starting out on a new business venture, are self employed or working from home, Big Web Company design and develop affordable websites that are perfect for anyone working to a tight budget. Understanding the needs of growing small businesses we provide cheap web design that backed by proven professional quality and experience in the industry. Big or small you can rest assured that the same level of creative thinking we put into larger website projects, will be put behind all the work we do for you.
Cheap Web Design That Doesn't Cut Corners
With our affordable website design, we aim to offer customers of all shapes and sizes the ability to advertise their business online without breaking the bank. What's more we never cut corners or pass off low quality work in the aim to save money, we pay attention to the finer details and keep the cost you pay totally out of mind. Affordable web design with all the bells and whistles can help you push your brand, product or services further than you may have in the past. Contact us for an attractive and fully functional online front door, brochure website or business blog; the perfect choice if you're looking for your first website or simply cheap business website design to complement a larger site with marketing sentric content, splash pages or advertising.
The Many Benefits
Websites for Freelancers
Web Design for Photographers
Personal Trainer Web Design
Beauty & Massage Websites
Personal Blogs / Microsites
Web design for Carpenters
Web design for Writers
Websites for Translators
And many, many more...
Tips for getting the best high quality yet very affordable website design in London
As a business owner, you most probably need a website to display your products, services, or simply for getting in touch with clients. No matter what the ultimate goal of your website is, you need your website designed with professionalism. One of these requirements is, without a doubt, decent pricing, but the biggest issue that comes up is balancing quality and price, so that none is sacrificed for the sake of the other. Here are some of the things we offer as an affordable web design company.
Flexible Pricing Options
You can tell the difference between a professional affordable website design company and a not so great one by the pricing options they offer. Generic pricing with pre-defined features will not help you, especially if you have a small website that needs a very specific approach or function, to begin with. Our company offer tailored website pricing options, according to customers' needs to make sure they get exactly what they asked for at a price that suits their budget.
Benefits of using an affordable UK Company and not overseas
With so many businesses being run on the Internet, this may seem like a redundant question. However, there may be moments, during the development of your website, when you will need assistance from a person who can be at your site during the hours your business runs. From this point of view, working with a local company can become a great plus.
Forget templates, only creative, original branded website design

While the use of templates is still oddly a common tool for some web designers in order to legitimise their cheap web design prices, no sensible business owner wants the same reused template and design that other businesses already share, especially if they want to get ahead the competition or build upon a long standing brand.
Regardless of the price you pay our cheap web design services only focus on brand driven web designs that are born our of your vision, industry practices and a wide range of ideas that help with customer conversions.
Content managed websites can still be affordable
Websites today are flexible, up to date, and interactive. If you want all these functionalities while keeping development costs to a minimum, we can certainly help. As affordable web designers, we create custom WordPress themes, plugins and widgets that give you full control of your site and the ability to expand it's content beyond what a lower budget might allow. Send us an email to find out what we can do for you.
Check out some of our recent affordable web design projects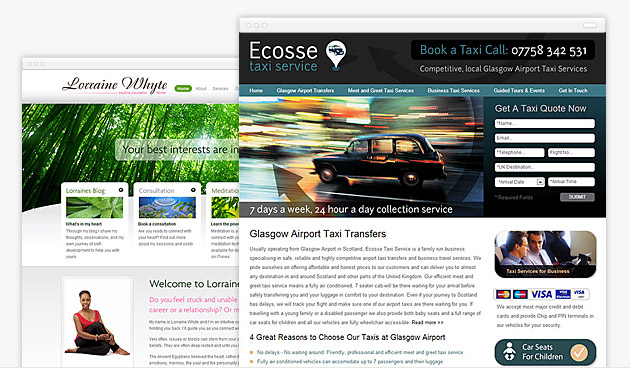 Affordable web hosting options
Website design does not have to cost a fortune. But you should always keep in mind that spending money on the creation of your website is not the only expense it will require. After creating the website, you will need to find a realiable hosting service and the good news is, we can do this for you.
Benefits of Our Affordable Web Design Company
No templates 100% custom, creative website design to your exact specification.
We develop easy to use content management systems that give you content control.
Exciting database driven features that allow your site to grow with your company.
Dazzle your clients with animated and interactive features using Flash or HTML5.
We provide on-going support. We never abandon our loyal customers when in need.
We offer fixed website design prices to fit most budgets and no minimum pages.
Located in South London we are happy to visit customers to discuss their projects.
Cost effective web design everyone can enjoy
We are an affordable website design London firm, geared towards offering tailor made solutions to businesses of all sizes. We create original designs, according to our clients' specifications, and we aim at offering cost effective business solutions for every customer.
Why Choose Our London Web Design Company?
Over 14 years experience

designing and building business websites across many industries throughout the UK and across the globe.

Design work is done in our London office

. We do not outsource web design to anyone you can't directly contact 7 days a week during GMT.

We take a personal approach

working directly with you from start to finish. You'll have 1 point of contact who knows every aspect of your project and wont change.

We can be contacted 7 days a week

by phone, email, Skype and social networking sites such as Google+ and Twitter.

We are a full service agency

so can provide everything from ecommerce sites to printed advertising, brochures and logos.
Frequently Asked Questions
How much will my website cost?

Send us your project details using this form and we will send you a bespoke price.

Do you provide web hosting?

Yes. With all quotes we can offer competitive and affordable high speed VPS hosting.

Who owns my website?

You do. Once all invoices are settled you have 100% unconditional ownership of your site.

Can I amend my website?

Yes. With all ecommerce sites we provide an easy to use admin panel to update your contents.

Do you provide any support?

Yes. We provide both free and low cost support packages which include content changes.